Mic.Drop. 4-Year
Mic.Drop. 8-year's success was a total surprise. Yes, we thought it tasted and looked good but we had zero expectations as to how it would be received or sell.
PM's NY distribution arm had zero bourbons to sell in the state and the team got tired of responding negatively to our customers' inquiry "y'all have any American whiskey?"
Being rather inexperienced in the bourbon game and used to selling brandy, which moves wayyyy slower than bourbon, we proceeded to overcommit, saying "yes sure" to any customer asking to purchase 5, 10 or 20 cs, thinking "we have plenty in inventory, no prob."
We didn't. Each one of us placing order after order, not realizing the entire team was doing the same. We learned the hard way when it was time to call customers and apologize for saying "yes" to hundreds of cases more than we actually had in stock.
When the opportunity came to bottle the single cask of Mic.Drop 2.0, we priced the 13-year significantly higher thinking that these 100+ bottles would allow us to buy more single cask brandies. We also thought it would help make sure Mic.Drop 2.0 would not end up on the secondary market for mad prices after seeing the first Mic.Drop was on the grey market selling for $600 or more.
This second release sold in a matter of hours. Prices on the grey market soared. Three digits.
The question then became: is it just a fluke? Or is there an actual demand?
Keep in mind that, from a brandy perspective one is not accustomed to having a demand for a specific product. Add to it that this project was initiated as a way to work on something fun and cool and not make it a brand.
The main thing for us lies in those 3 words: "not selling out".
What made PM special is the fact that we never deviated from the course. Never peddled anything we didn't believe in. Never gave in to the temptation of going more "mainstream" by adding items that we knew would fly but weren't consistent with our vision. Spirits-only, self-funded and with very high standards. It's easy to understand that we have little competition. It is a hard battle to fight. It takes commitment; a belief in a vision that is directly opposed to what ubiquitous brands stand for; constant work; and the will to make things happen without a big budget.
Essentially you stop, it stops.
We had two choices:
Don't bother looking into it and move on. We didn't have a third release lined up. No secret stash of casks. No future plans.

Test the waters, work on 3.0, see what gives. But do it while not selling out. Perform an actual work of selection. Don't just buy some casks based on 3 samples sent to the PM office
What should the choice be?
Letting Mic.Drop go for fear of becoming "commercial" because we're too pure and idealistic?
Do something. It works. So you decide to never do it again because you're better than everybody else? Nah.
Plain stupid, if you ask me.
So we went to look for some MicDrop 3.0 material.
Therefore putting random juice in a bottle and trying to flood the market would destroy our cred and eight years of hard work, risks, and sacrifices in a heartbeat.
At this point, the Mic.Drop project is tied to MGP juice. There is no plan and it may or may not stay this way. That's not a way to open a door to look elsewhere because that door has always been open. We do what we feel like we should be doing.
Call us biased but we feel the first two releases were real good and that bourbon was distilled at MGP. For the third release, it seemed logical to explore whether it was relevant to keep going in that direction following our core principle: PM should associate itself only with booze we stand behind, things we feel tastes really good, things we can explain the reasoning behind us having picked this juice. Things about which we can give the full story.
To asses whether it made sense to continue working with MGP distillate, we set up to understand what were the parameters relevant to selecting casks from MGP (the previous casks were not picked out from MGP's warehouse). The idea what to the find out if such casks could be picked out knowing that MGP is a rather larger operation which would likely not allow for one to wander around the building and taste one cask at a time.
The result of our tastings and discussions were as such:
MGP makes damn good whiskies.

Mashbill: we felt that while the 25% rye is delightful in older bourbon, the 36% rye is where younger bourbon shines.

Age: to us, anything younger than 3/3.5yr tasted young. 4 yr old had personality.

Nothing above 4 years was offered or available to us.

Location of where the casks are stored was not relevant in the large ex-Seagram warehouses. Their thick walls do not behave like a typical rick-house.

We can totally find some real good younger bourbon for a more affordable release of our project.
We narrowed down to 4-year, 36% rye samples to see if anything would be of interest. Some tasted consistently richer and more mature than the others. Knowing that the location was not at play, differences between batches could be a factor. This is unlikely as the process is streamlined and MGP knows what they are doing. They know consistency.
Mic.Drop
L19-01
Age: 4 years
Mashbill: 60% corn, 36% rye, 4% barley malt
ABV: 56.1% ABV
Origin: Lawrenceburg, IN
Bottled: Bardstown, KY
Barrel-proof, unfiltered
Distilled at MGP on May 23, 2015.
Bottled at Strong Spirits in July 2019
The second obvious factor was cooperage: MGP uses different coopers and the 4-year, 36% rye bourbon that shined for us were systematically aged in the casks made by Zak Cooperage.
We narrowed down the batches of 4-year, 36% rye aged exclusively in casks from this specific cooper. 37 of casks of the same batch were all that was left. The remainder of batch 12E23-E05. We tasted this specific run and were impressed by the profile, the liveliness, fruit expression and elegance on the palate despite being around 56% ABV.
We bought these casks, shipped them to Strong Spirits where they were blended and bottled at full proof without the addition of any water.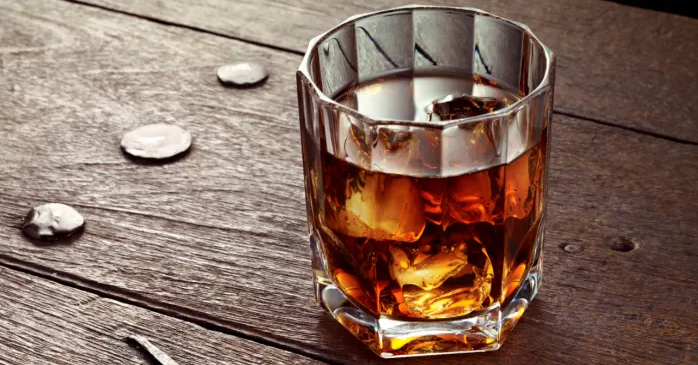 The 10 Best New Bottles for Bourbon Heritage Month 2019
PM Spirits recently released a third variety of its Mic.Drop bourbon, and this one lowers the age statement and price while still offering a tasty whiskey. This four-year-old bourbon was sourced from MGP with a mash bill of 60 percent corn, 36 percent rye, and 4 percent malted barley. It is unfiltered and was bottled at barrel strength of 56.1 percent. For the full and completely unadulterated story, check out the website, but this is an un-precious whiskey that you can sip, mix, and enjoy any way you damn well choose. - Jonah Flicker, Maxim